Creating personal employee accounts
Hideez Enterprise Server – Creating personal employee accounts
Accounts are associated with a specific User, not a key.
Click the
Create a personal account
button on the Employee's page.

In the window that opens, you can create an account to access websites and / or applications and unlock your computers (local account, domain account, Microsoft account or Azure AD account).
The same account can be simultaneously used to access websites/applications and to unlock a PC. For example, you can specify a domain account and sites/applications for which domain authorization is possible.
Please, notice that by default login for the domain
on premises
looks like
example.domain/username
.
If a site or an application with domain authorization requires entering a login without specifying a domain, use the special character
#
before the resource title. In this case the record may look like -
#example.com
or
#exampleApp
. Login for this resource will look like just
username
. If the login form required is
[email protected]
, please, use the special character
@
-
@example.com
or
@exampleApp
.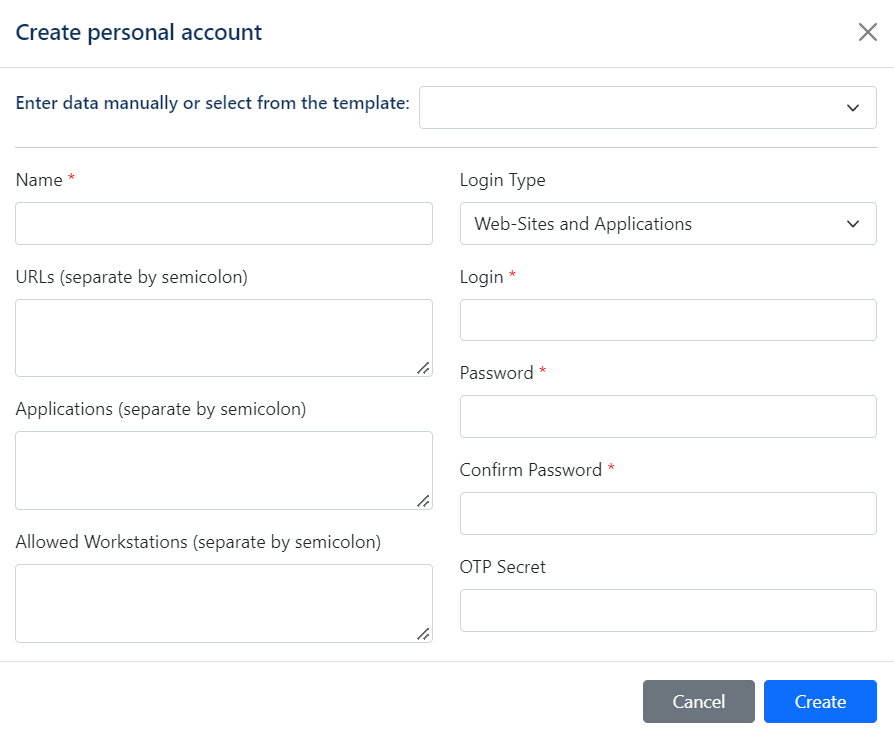 Enter data manually or select from the template

- the ability to create an account based on a

previously saved template

. If the template is not selected, the account is created by manually entering all the data.

Name

- account name. Required field. Name your account the way it is convenient and understandable for you.

Login Type

- the type of login that defines what the account can be used for. Choice from the drop-down list: Web-Sites and Applications / Local Windows Account / AD Domain Account / Azure AD Account / Microsoft Account.

Login

- login, required field. Depending on the selected type of login, you need to specify it correctly, for example, for an AD Domain Account, you must also specify the domain.

Password

- account password, required field.

Confirm Password

- password confirmation, required field.

URLs (separate by semicolon)

- one or more URLs separated by ";"

Applications (separate by semicolon)

- one or more applications separated by ";"

Allowed Workstations (separate by semicolon)

- one or more workstation names (such as DESKTOP-xXxX) on which this account will be used as the primary unlock credential (In case you have some unlock accounts on the Key for one workstation. If the field is not filled, unlock account is chosen randomly). This field is not used for

Web-Sites and Applications

account types.

OTP Secret

- secret OTP code.
Web-Sites and Applications