Keys Activation mechanism
Hideez Enterprise Server – Activation mechanism
For the user to use the Hideez Key after receiving it, it is necessary to go through the activation procedure in the Hideez Client.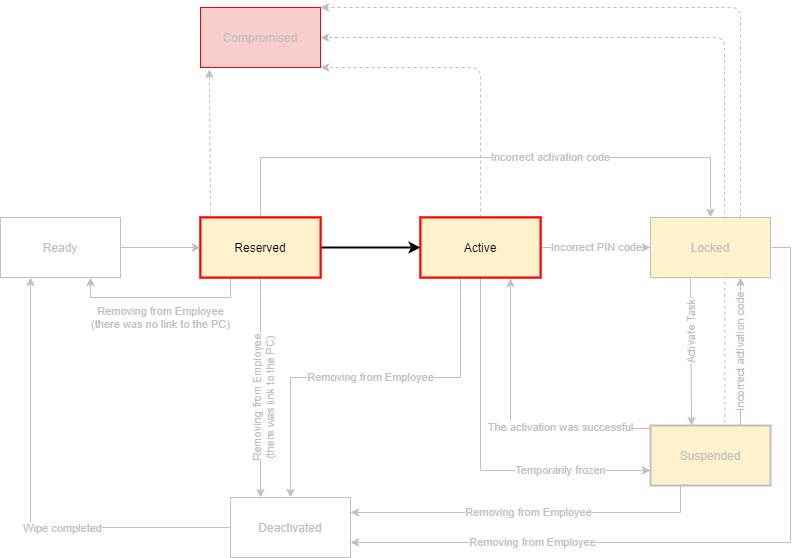 1.

The administrator must send the user an activation code by e-mail or any communication channel outside the system.

2.

The user must enter the received code when connecting the key to Hideez Client for the first time.
If you created a user manually using a wizard, then at the last step, you had the opportunity
to provide an activation code
. If you did not do this then or created a user in another way, then the activation code can always be found and reported.
Go to the
Hardware Vaults
section, find the required Hideez Key, click on it, and click
Activation code
.

Go to the employee's page to whom the Hideez Key has been added and click
Activation code
.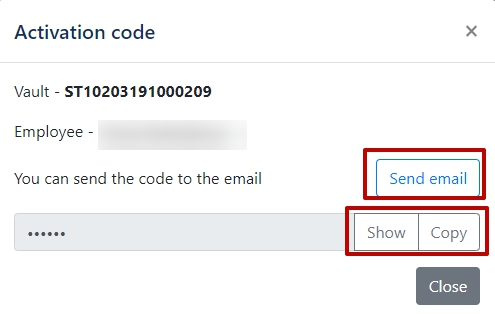 You can send the code to the employee's e-mail (if added to the employee) or communicate it in any convenient way outside the system.
After this, your task as an Administrator is completed. The user will have to enter the activation code when trying to connect the Hideez Key. As soon as activation is completed successfully, Hideez Key status will be Active.

If you create a user manually and immediately assign the Hideez Key to him, you will see the activation code at the last step of the Wizard and can also inform the user about it. Learn more about
manually creating a user
.
There are 3 attempts to enter the activation code. If it is entered incorrectly, the Hideez Key will be transferred to the Locked status.